PETROS THE PELICAN THE KING OF MYKONOS
From Marina Petri and Markos Zouganelis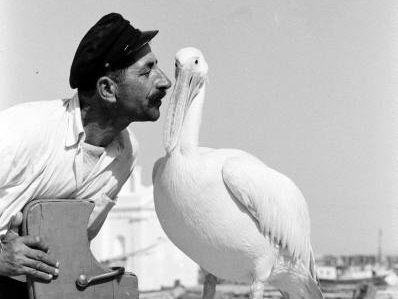 A project dedicated to the silent work of Mykonians through an emblem representing the selfless offering of most of those who fought with the need for progress, change and the requirements of the times, offering -most of the time without any assistance- to our country Greece, an international presence with recognition in tourism, who else the dear to all, Petros the pelican.This spirit is transferred to each contractor with the same fervor and offer to work free for tourism.
The story of an egg... as the egg of the creation of the world, will bring a new life..
This of a strange bird's life of the world's famous "Peter the Pelican" since the end of 50's, writes an animation with synthesized pictures of that time a moving type PETRO THE PELICAN OF MYKONOS a touching story, like that in the films of Charles Tsaplin..
With music of all times and scenes, without words too, just captions as on silent movies, because the history of the island of Mykonos, for those who really know, leaves you tearful without words, the ignorant shouting and the bad covering with noise their own guilty acts and insincere thoughts.
The type of Pelican, designed frame to frame, in a simple and tender performance by the artist writer Marina Petri. She has directed and chosen the sounds and music. Markos Zouganelis made the music-technical processing, as well as the creation of the effects.
You can watch for free from the website mykon.net, offered by the publishing house "MYCONIAN FOS" and mykon.net
More information : 6978064528